The IPS is on the Roster of the United Nations Economic and Social Council since 1993.
The Institute's main mission consists in networking the loose members and groups of the New Group of World Servers and to create with them a strong and effective platform and global energy structure which will bring forth planetary awareness and synthesis. The Institute for Planetary Synthesis participates actively in ECOSOC and other UN conferences, and intervenes in the discussions whenever meaningful. Statements aimed at elevating the discussions onto a planetary synthesis level often evoke a response from the participants. Thanks to the universal law of affinity and synchronicity, the members of the New Group of World Servers are thus discovered and relationships are established.
Representatives of the Institute participated in the following major international conferences and NGO Forums:
Rio 92 - United Nations Conference on Environment and Development (UNCED), the Earth Summit
Copenhagen 95 - World Summit for Social Development
Beijing 95 - Fourth World Conference on Women
Istanbul 96 - Habitat II, Second United Nations Conference on Human Settlements
Johannesburg 2002 - World Summit on Sustainable Development
Rio+20, 2012 - United Nations Conference on Sustainable Development
IPS representatives regularly attend sessions of the Human Rights Council in Geneva, and of the Open-Ended Working Group on Sustainable development Goals in New York, as well as many other meetings and conferences.
Thus, the IPS' work at the United Nations is to establish right human relationships by means of integration, constructive co-operation, an expansion of consciousness that leads to the awareness of the ecology of life and to the establishment of world peace. The Institute therefore supports the main aim of the UN Charter (Art.1.1), " …to maintain international peace and security, and to that end: to take effective collective measures for the prevention and removal of threats to the peace, and for the suppression of acts of aggression or other breaches of the peace…"; only the means differ. The Institute has a more holistic nature, as it seeks to strengthen world peace by promoting inner peace, the peace of the mind and feelings, with the ultimate aim of experiencing cosmic consciousness, i.e. unity with the source of all life.
The Handbook on the Ten Seed-Groups has a chapter on the United Nations. The IPS has also compiled a brochure on "The Role of the United Nations in the New Age". Both can be downloaded from the Publications page.
The United Nations is an example of one organization that has activities in almost all ten fields of service of the ten seed-groups. Here are a few examples.
Communications
ITU (International Telecommunication Union) - www.itu.int
ICAO (International Civil Aviation Organization) - www.icao.int
UPU (Universal Postal Union) - www.upu.int
IMCO (International Maritime Organization) - www.imo.org
Trained Observation
Peace-Keeping and Observer Forces
ECOSOC (Economic and Social Council) - www.ecosoc.org
Health - Healing
WHO (World Health Organization) - www.who.int
Education
UNITAR (United Nations Institute for Training and Research) - www.unitar.org
UNU (United Nations University) - www.unu.edu
UNESCO (United Nations Educational, Scientific and Cultural Organization) - www.unesco.org
Politics
Security Council - www.un.org/en/sc/
General Assembly - www.un.org/en/ga/
International Court of Justice - www.icj-cij.org/en
Trusteeship Council - www.un.org/en/sections/about-un/trusteeship-council/
Peace-Keeping & Observer Forces
Science
UNESCO (United Nations Educational, Scientific and Cultural Organization) - www.unesco.org
UNCHS (United Nations Centre for Human Settlements – Habitat) - www.unchs.org
UNEP (United Nations Environment Programme) - www.unep.org
WMO (World Meteorological Organization) - www.wmo.ch
WIPO (World Intellectual Property Organization) - www.wipo.int
IAEA (International Atomic Energy Agency) - www.iaea.org
Psychology
UNESCO (United Nations Educational, Scientific and Cultural Organization) - www.unesco.org
Economics - Finance
ECOSOC (Economic and Social Council) - www.ecosoc.org
WTO (World Trade Organization) - www.wto.org
IMF (International Monetary Fund) - www.imf.int
IFC (International Finance Corporation) - www.ifc.org
IFAD (International Fund for Agricultural Development) - www.ifad.org
UNCTAD (United Nations Conference on Trade and Development) - www.unctad.org
UNDP (United Nations Development Programme) - www.undp.org
UNFPA (United Nations Fund for Population Activities) - www.unfpa.org
ECONOMIC REGIONAL COMMISSIONS
WORLD BANK - www.worldbank.org
Creative Work - The Arts
UNESCO (United Nations Educational, Scientific and Cultural Organization) - www.unesco.org
iPhone and iPad Apps on the Events at the UN and UN observances: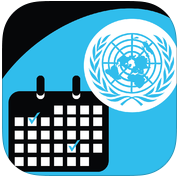 UN Calendar of Observances: Making a Difference